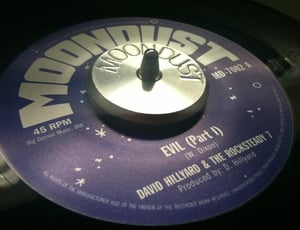 $

7.50 - On Sale
On this latest slice of dark blues riddim he covers "Evil", an old Chicago blues standard written by Willie Dixon and recorded by Howlin' Wolf for the Chess Records label in 1954, reaching #43 on the Billboard R&B charts. It's a dark cut of social commentary that Mr. Hillyard attacks with his instantly recognizable sax work.
Dave had this to say about the tune: "The original song, Evil, was about adultery. For me though, the tune is about the risks you take when put everything out there. Its about touring. When you go on the tour, you never know if this is going to be the tour that is the straw that breaks the camel's back. That your family may or not survive this obsession you have to make music and share it with people.
Music is powerful magic so when you practice magic sometimes it has a way of backfiring on you. Or at least you have to be aware of it.
So the evil is the potential of bad stuff happening at home (the original turnaround is 'you better watch your happy home'). Its also the evil that posesses you to make music. Which is also a beautfiul, vibrant, fiery thing."
The release features the tune in 2 parts on a vinyl 7" record.
FREE CONTINENTAL USA SHIPPING